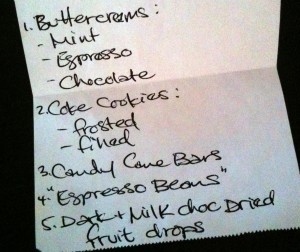 So I baked a lot this year. For both sides of the family. And friends and co-workers. This isn't the whole list, just the ones I could recall off the top of my head after the first three day marathon in the kitchen.
My Gingerbread-Espresso Christmas Cookies came after this list was made, and almost at the end of the second baking wave. It was an inspired last minute recipe idea I threw together, and I think it was the best cookie I gave out as gifts.
Speaking of, I promised you all that recipe the other day, and then life got in my way. Apologies! Coming right up. As promised, each will have their own post entry so you can search for it in the future.