Happy 2015! Hope you were all able to stay up and see the new year being rung in. If you weren't, don't feel bad. My husband had a long nap in the afternoon, and he still turned in early. 🙂
But, beforehand I was able to share this dinner with him. It's homemade cabbage rolls with bacon on top, sauteed cabbage with kielbasa and onions, and served with rustic red potato mash.
It was all tasty, and we washed it down with this great non-alcoholic sparkling wine drink I found at the grocery store. I really like it. I'm not a fan of booze, or champagne, but I like the taste of this drink. A lot. We finished the bottle as I did the dinner dishes.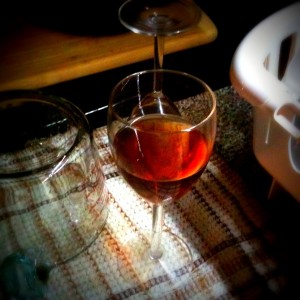 It's about ten minutes to the big moment, and my husband is now sitting on the couch. I guess he wanted to wait it out with me after all. Aww. He's a total sweetheart.
I'm not one for resolutions, but if you are, I wish you the best in keeping them. Conviction is the key. Conviction and a clear goal without any other voice in your head telling you change isn't possible. It is. Totally.
Ok, we're down to five minutes left in 2014. Get your drinks, noise makers and lips ready, kids.
Talk to you in next year!