Today was gooorgeous out. The temperatures were a solid 22 and higher. We took the opportunity to do some Spring cleaning in the backyard and unearth our garden bed to flesh out what we want to do with it this year. It was also junk, waste, yard and recycle day, so we removed the old laundry tub from the yard and raked all the leaves & debris so they could be collected in the morning along with the blue box stuff and garbage.
Are you still awake? Oh, good. Thought I lost you all there for a second. Phew!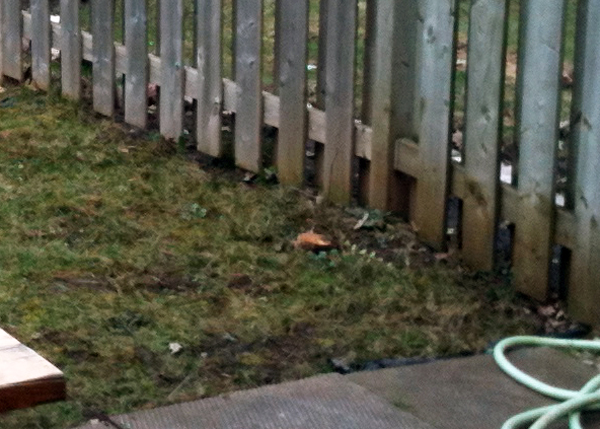 Sadly, today we had to cut down a bush that a previous owner planted years ago because it died over one especially early cold snap two years ago. I finally gave up all hope of it coming back to life. (Sigh)
I don't remember what the bush was, or even if I ever knew, but it was pretty when the Fall hit, though. I remember that much. Pretty hot pink leaves all over. It reminded me of a feather boa. The husband got to use his reciprocating saw on the bush, so I'm fairly certain he wasn't sad for long. 🙂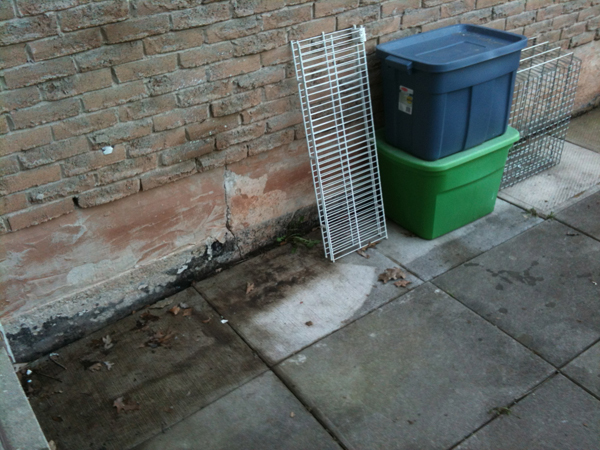 On the other side of the yard, I was startled at one point when we moved the box the old tub was sitting in. Something jumped out from behind it and sped off like lightening. It scared me. I thought it was a full grown rat till I saw the cotton tail on its backside. It was a baby bunny. Not uncommon in these parts. The local college is nearby and the students are famous for buying one during the school year, and letting it go in any of the local walking trails with brush and trees the second their school year is done. It's cruel, really. Domestic bunnies don't know how to fend for themselves, and yet, this goes on year after year.
Anyway, this little bun had apparently made its home behind our gardening bins and tools, making a nest with the old leaves that fell between the bins and the wall. Now that we moved the bins and cleaned out that corner, I guess it will move next door where the new owner hasn't moved in yet and the old owner didn't bother cleaning up the yard. Next owner's chore! Those leaves should provide a temporary home for the bunny. At least for a month or two, I figure. By then, this little bun will be a big bun, and hopefully someone will spot it and take it home. Hopefully.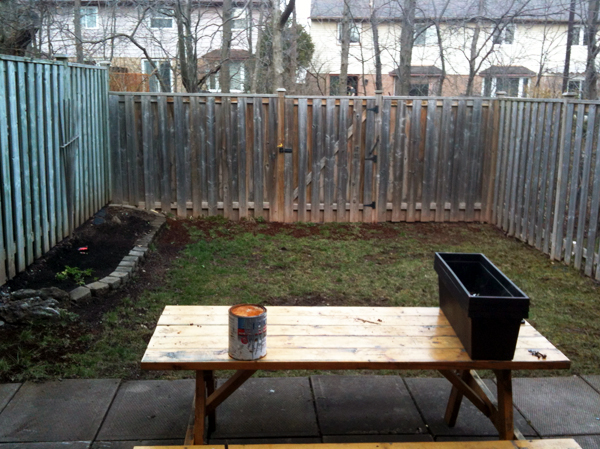 All in all, I'm happy with how the yard turned out after only a few hours of raking and moving stuff to sweep, cutting and clearing, and uncovering a pleasant surprise in my gardent bed – flat leaf parley from last year that somehow managed to survive a snowy, awkward winter season. Not sure how to explain that. Thought for sure the snow and cold snaps would've shocked them dead. Huh. Hardy little herb, no?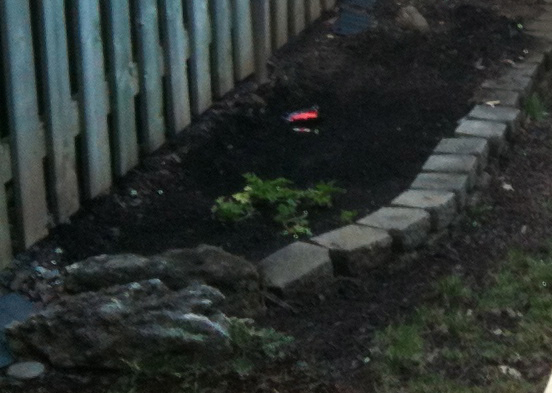 After I plant the rest of my herbs in the coming weeks and get things rolling gardening wise, and the husband has a chance to make the grass seeds he threw down today make some magic happen in those patchy areas, I think this yard will come together nicely. I will post more pictures as things progress or if there is anything amazing to show you, like more bunnies or a zombie playing in my herb garden.