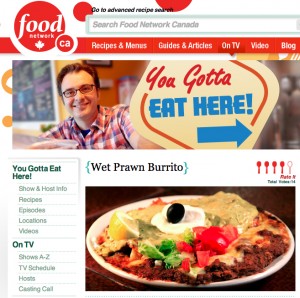 Our new favourite food show is You Gotta Eat Here! which airs Friday nights at 10PM on the Food Network channel. It's hosted by the very funny and delightful to watch get his food orgasm on, John Catucci – a man after my own heart who carries his own fork & knife around in his back pocket seemingly at all times. Just like Mama! His reactions are the #1 reason the show works as well as it does for me. He consistently makes me giggle, and my belly growl.
When he slams his hand down on the prep area bar, rolls his eyes, moans with food in his mouth reminiscent of Meg Ryan doing her fake orgasm scene in Harry Met Sally, only John means his, I instantly want to get into our car and drive to whatever the restaurant he's featuring is located to have the same experience.
That's how you make great tv, kids. And how you feature the hell out of your menu. Oh, sure there are times when I cringe at some of the food concoctions and the portions being served, but John's reaction to what he's eating in the kitchen with the chefs and cooks gets us past that squeamishness  and make us want to binge on marathon runs of its first two seasons all week in and week out.
This show has us both quasi longing for a smoker. Seriously. You'll understand when you see how they make this featured dessert:
Right!?!? Oh, man. If only we had room in our tiny kitchen for a smoker. 'Mmmm…
I really like that a lot of these restaurants will share a great recipe with the public on the You Gotta Eat Here! blog over at the Food Network, like those Codfish & Potato Cakes from Chafe's Landing I can't taste unless I take a trip down East. Oh, my gosh… And guess what! That recipe is online now. Woot.
This show has inspired us to do a few road trips, but I'm not sure how far away we want to drive. I'm thinking past the Ontario border would probably be a bit much for us to do over a long weekend, but never say never, right?
Follow John's new You Gotta Eat Here! season adventures on their Facebook page, as well as some of the recipes featured on the show as well as show's trip map over at Food Network.
I'm off to make the mayonaise for this Potato Salad. I've been thinking about this one for awhile now. Oh, it's going to be sooooooo good. 🙂