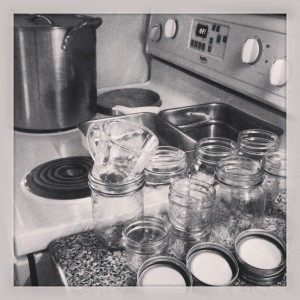 Yesterday I spent the day puttering around in the kitchen, cleaning mostly (the oven, the stove top, mason jars, dishes, the floor, etc.) but also making a big portion of dinner (Korean Beef) and setting up lunches for the husband since he's working a lot this week to cover a co-worker who went home to visit her family for the first time in at least 5 years. And luckily since I tired myself out yesterday in the kitchen and at work, we were finally able to go to bed early for the first time in a long time. In fact, I was so tired, I tried to start this post in bed but I fell asleep shortly after logging into the website. (snort)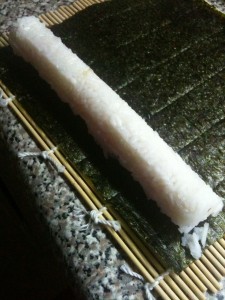 I also found sometime to play a bit with food, and a new gimmicky tool I bought on clearance. I was drawn to this trough looking toy that purports to help make the best rolled rice and filling for maki versus hand rolling, so I figured it was worth $3 to find out. All in the name of science. Tasty, delicious science. 'Mmm… Ahem. Well, they aren't lying. Check out this tight maki roll I made using jasmine rice (rinsed two times to keep some of the starch needed to stick the filling together) and carrot sticks. All I did was wet the nori sheet at the ends and a bit in the middle as I went along, and it pulled it tight with the bamboo mat as I rolled it over. And I didn't have get my hands dirty and tacky at all?? I'm impressed.
In other news, we're on the hunt for a new oven. I dislike this old cheap version that came with the house, and it now only cooks and bakes on the left side of the oven. I mean… I just can't even begin to figure that one out other than it's the broiler or the main element going and simply needs to be replaced, but no matter because we're taking the opportunity to get something different.
By the way, this same model of old school stove is still sold in stores for less than $400. Good dogs!
All I know is, this stove is making baking quick and yeast breads a nightmare. I have to practically sit beside the oven and watch the action like a hawk as they bake lest they burn or take an extra half hour to cook all the way through. Who has time for that crap? Not me!
What type and brand this new stove will be, I don't know. We don't have gas lines on our street, and the kitchen is located too far inside the house to even consider a propane hookup for a gas stove, so I have been researching and reading up on new electric range models. I'm sufficiently frightened by how shoddy new appliances seem to be these days. Worse than when I first starting hearing horror stories 17 years ago from an old boss, if you can believe that.
I get that major appliances will never be built to last ever again, but this seems ridiculous. I don't have a job where I can take X number of random days off to wait for repair people to come fix or replace parts in a NEW stove just because something like the self cleaning feature runs at a high temperature and burns out the convection electronics, or the dashboard circuit blows on its own a month into owning the damn thing.
Honestly, I should just keep the old stove, but I am loathe to do so. Did I mention the wonky, uneven burner elements on top? No? Well imagine trying to pan fry something and the liquid rolls off to one side of the pan instead of staying in the middle where it's supposed to be. (It's my personal nightmare holding the handle as I tilt the pan so food cooks properly because that further compresses the nerves in my neck, which makes the hand I'm using go all pins and needles numb.) At first I thought the floor was uneven and that made the whole stove uneven, but my husband proved it wasn't using a level. Oy ve. So after bending down and looking at the elements, and pulling each one out and putting them back in, I have concluded these burners have been through hell and back. Enough!
Anyway, back to shopping. I hate Samsung anything (they make good appliances on the whole, but they keep repeating known design flaws for YEARS, over many of their models, so forget that nonsense. I've already broken the middle freezer drawer because they use the same weight distribution design flaw that causes the drawer to stick and stall as you pull it in and out of the unit.), and I'm leery of the now crap reputation Bosch has. Moving on, the next three players are: Maytag, Whirlpool and Kitchenaid (all owned by Maytag) who also have their own design flaw — the self cleaning feature that never seems to work. At this point, I'm not even looking for a stove with that feature. I'm happy to hand clean my oven every so often as required.
So that leaves me with a small brand name pool of: Frigidaire, LG and two others I can't recall right now. All have their detractors online and known past issues with certain models. So far I can't find one stove, or even one brand of stoves, that stands above the pack. It's like we're left to decide between poop and diarrhea. Greaaaat…
And then there is the issue of range surfaces. There are great reasons to go with induction, but my understanding is it requires new pans that work with the magnet attracted elements. I don't want to replace my pots and pans if I can help it, and I'd really love to continue using my big ole cast iron Dutch pot up top if I can, so that leaves us with an enamel tops but good luck finding one. I've looked around and so far came up empty. I suppose I could go back to coil burners but they'd have to be in a certain arrangement that I like (two big elements up front, two small ones in the back) that won't lead to more neck compression leading to more nerve compression leading to more pain in the ulnar nerves causing me loss of hand use – all because stoves tops are set at 36″ tall and I'm barely 5′ 2″. I just need some KISS platform boots to work at my stove, right? 😉
(sigh)
I'm starting to give myself a headache just typing this all out. Hahaha. Ok, that's enough for now.
Moving along, I have been testing a few new drinks to add to my Summer Drinks category. The first up was a promising banana latte, but it turned into something that my taste buds rejected outright, and the next one was my attempt at coming up with a Tim Horton's tangerine-yogurt smoothie knock-off, and this one proved easy to do, and it was tasty! I'll post that one soon.
Until next weekend, ttyl.