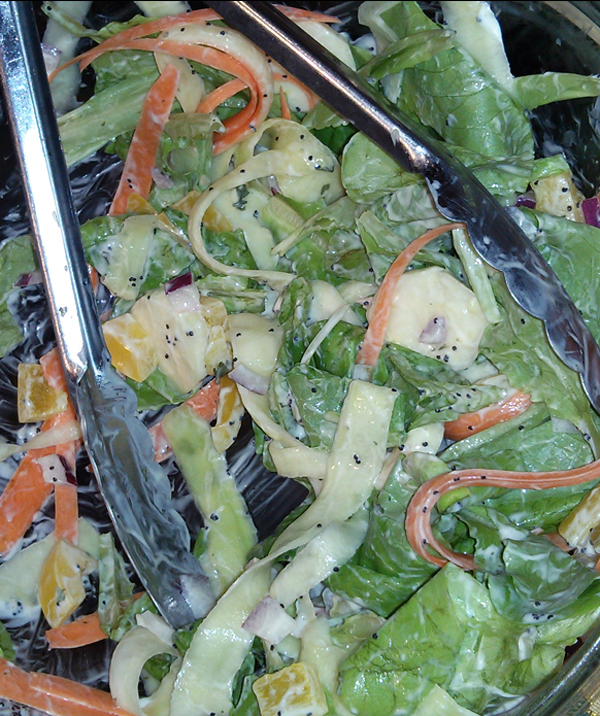 This is going to be my new Summer salad dressing jam this year. It's a riff on a poppy seed dressing I found online. I added, subtracted, and of course, divided to get to this perfect equation of creamy goodness, and I'm sharing it with all of you.
Creamy Summertime Poppy Seed Dressing:
1/4 C Mayo
1/4 C Sour Cream
1/4 Tsp Sugar
1/4 Tsp Lemon Juice
1 Tbsp Vinegar
1 Tbsp Poppy Seeds
Dashes of Salt & Pepper
Combine all of the ingredients in a mason jar with a tight fitting lid so you can shake it up, or in a small bowl using a whisk. It will yield enough for 4-6 salad servings.
Enjoy this over the following salad I put together tonight. It was so tasty, I couldn't stop eating it even after I finished everything on my plate and my stomach screamed, "I'm full. You can stop now!!"
Summertime Salad:
1/4 Sm Red Onion (finely diced; tempered in a bowl of water for 15 mins)
1 Med Zucchini, peeled into ribbons (until you see seeds; then dice core into medallions)
Sea Salt
1/4 Yellow Pepper (rough cuts are fine)
1 Med Carrot, peeled into ribbons
6 C Loose Leaf Lettuce (washed 4 times and dried off completely)
Fine dice the red onion and drop it all into a small bowl of water to temper for 15 minutes while you peel the fleshy portion of the zucchini into ribbons. Place the ribbons in a salad spinner basket sitting in its reservoir bowl and sprinkle sea salt all over them to draw out excess moisture; let this stand for 10 minutes. While waiting, dice the pepper and zucchini core, and then peel the carrot into ribbons.
Place the diced pepper, the zucchini medallions, the carrot ribbons and the loose leave lettuce in large salad bowl. When the 15 minutes are up, dump the onions over the zucchini ribbons and rinse them well under the tap. Run them through two passes in the salad spinner to get rid of all the water to avoid diluting the dressing in the final salad presentation.
Add the onions and the zucchini ribbons to the main bowl, top with all of it with the dressing, and toss to coat all of it well. Serve immediately. By the way, I served this salad with baked fish in case you were wondering.
Have fun stuffing your face. I know I did! 🙂