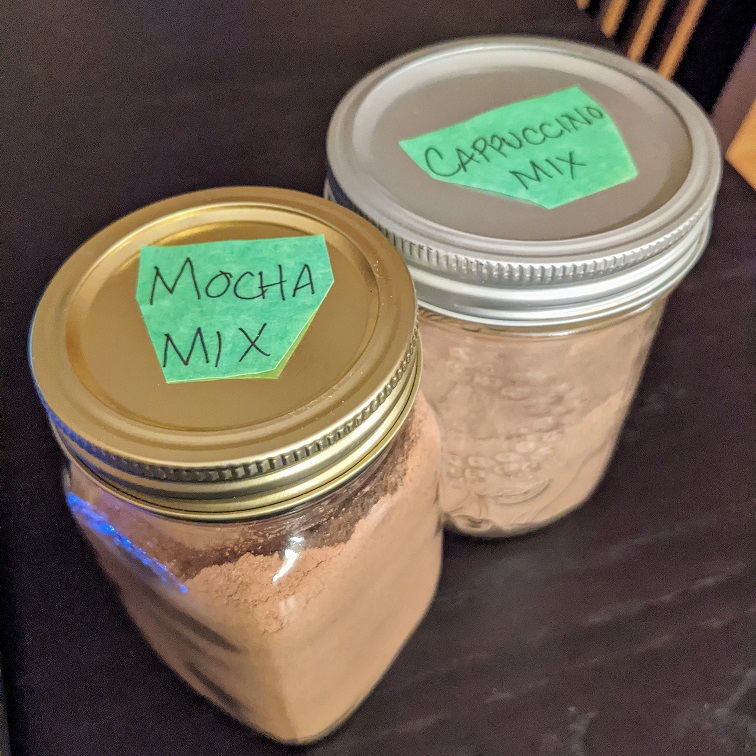 Summer gave way to Autumn last week, but this week I ran out of my expensive coffee that I only buy on sale, so for now I made a small batch of cappuccino "coffee" drink mix. It's nothing more than a jar of dry ingredients that have been well whisked together for almost a full minute (for full incorporation and to break up all of the clumps).
Cappuccino Dry Mix:
1 cup Hot Chocolate powder
1 cup Non-Dairy Creamer powder (optional)
2/3 cup Instant Coffee powder
1/2 cup Sugar (or sweetener of choice)
1/2 teaspoon Ground Cinnamon
1/2 teaspoon Ground Nutmeg
I find the cost of the non-dairy product too high to pay in these parts, so I leave it out. I do add milk at some point to cream it up, but in liquid form. I store this in a 500 mL mason jar with a tight fitting lid.
Formula: 3 Tablespoons of mix per mug + 1/4 cup (not a precise measure each time) + 1 cup boiling water.
Instructions: As the water is heating up to a boil, run the mug under hot tap water for a few mins. Turn the water off and let what's in the mug sit until the boiling water is ready. When the water hits boil, empty the mug into the sink and dump in 3 tbsp of the mix. Add your milk at this point and stir to make a somewhat slurry that allows the powders to start to blend into the liquid. At this point, add about 1/4 cup of the boiling water to the mug and stir vigorously until all of the clumps melt into the hot liquid. Add the rest of the boiling water. Stir a bit more and taste. If you need more creaminess, add a bit more milk.
Bonus mix recipe!
The other mix I like in the colder months when I'm bored of coffee or all out is my Mocha Mix. It's pretty much the same as the above cappuccino mix without the warm spices and the addition of vanilla. Oh, and it's the only one I have so far converted to metric for kitchen scales. I know, I know. I'm slower than a dinosaur. 🙂
Mocha Dry Mix:
30g Instant Coffee
50g Cocoa Powder
100g Sugar (of choice)
110g Milk Powder (optional)
1 teaspoon Vanilla Extract
Again, like in the above mix recipe, the milk powder can be left out in favour of your fave liquid milk product. Same deal as above for whisking the mix together. I like to put mine in a 500 mL mason jar with a tight lid.
Formula: 2 Tablespoons of mix + 1/4 cup milk + 1 cup boiling water.
Instructions: Exactly as above for the cappuccino mix to set the drink up in a warmed up mug.