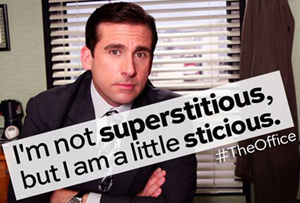 Ooooh, it's Friday the 13th. Are you superstitious? I'm not, but I always support those who are, because I want to feel a part of something. I have a sad little life like that. 😉
So, work is work. We're gelling together as a team nicely after four weeks, which is good because the large crowds haven't died down. At all. It's kinda scary when you look up.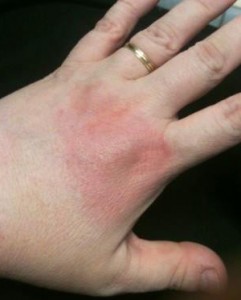 What's new, you ask? Well, I managed to burn my hand at work while on a break yesterday. I was trying to pour hot water from the dispenser into my tea cup when I misjudged where the invisible internal spout was on this newer dispenser machine (on older models, the spout hangs down so it's visible and you don't have to guess) and the scalding water dropped down on my hand instead of down into my waiting cup that was positioned about two inches away. Oops. Imagine my surprise. It doesn't look so bad now, and it only hurts in the small area that got hit the longest which is where I have a bit of bruising and swelling.
I figure the burn will all be healed by Sunday or Monday – just in time to do it all over again? 😉 The good news is this will NOT affect my Weekend 5 list. Woot. So, here we go: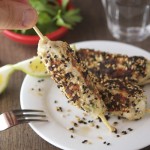 1. Sesame Chicken Kebabs: These will be done on Sunday since I have not one lick of chicken in the house right now. We're planning a Costco run on Sunday AM to grab more. I really like the idea of ground chicken on sticks rolled in sesame seeds for some strange reason. I'm weird like that. Bonus: I'm thrilled to find another food blogger with the Brachydactyly Type D (cosmetic) gene mutation in his or her thumb(s) like I have. I wonder if this person is a member of the Facebook group? Or, perhaps s/he isn't even aware his or her thumbs are different from others and is somewhat loved and is considered special by the others in our small circle??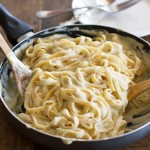 2. Healthy Fettucine Alfredo: I don't use Alfredo sauce much because I usually don't like the taste of commercial white sauces. They're… caulky. Also, I don't think they're as heart smart or calorie friendly as basic tomato sauce. And truth be told, I much prefer a lovely basil pesto, but the husband won't have anything to do with pesto. He's anti-pesto. Have you ever heard of anything so silly? Anyway, the use of a vegetable to make this sauce has me intrigued enough to try it. I wonder if the husband will suspect?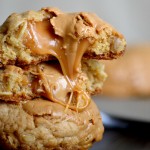 3. Caramel & Peanut Butter Oatmeal Cookies: For brevity, I condensed the name of this blogger's cookie. I don't have all day for a name that long, y'know? 😉 (That sounds mean, doesn't it?) These look great. Again, this will be for the inlaws more than for us. The husband isn't big on caramel anything, but he might try one or two if he's curious enough because he does adore his peanut butter so. And I really adore Fall themed oatmeal cookies. Win-win.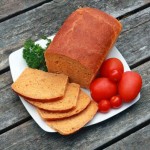 4. Fresh Tomato & Herb Bread: I'm thinking this will make a lovely companion to any soup or stew as the cold weather cranks up in the next few months. I'm putting it on today's list in September because I want time to test this recipe and make a few batches to bake up and freeze so I don't have to worry about wanting a few slices with dinner randomly at a moment's notice. My mouth is watering just thinking about how it's going to taste.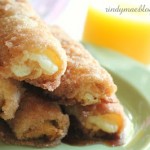 5. Cinnamon Cream Cheese Roll-ups: Now this is solely for the husband. Everything about it has his name written all over it. From the bread (check), to the cinnamon (check and check) to the filling (swoon), he will be pleased. Definitely!