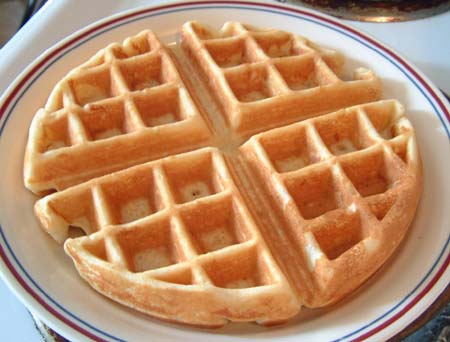 These are some yummy waffles I make most Sunday mornings for the husband (below). He loves them! And I find kids really love these waffles, too. A lot. I know one little boy who ate so many, even the adults were stunned. I, of course, sent him home with leftover waffles in his pants and jacket pockets. You know, for the road trip home. That 17 minute ride can be soooo long when all you're thinking about is your next waffle fix. 😉
FYI: Sometimes I sub out the milk for water or whatever juice we have on hand each Sunday morning. We can taste the fruit in the waffles, and they even seem a bit more moist. Plus, you can't beat an orange hued waffle. Oh, and we also use this batter to make our pancakes when we're not in the mood for waffles.
You can also use this batter to dip your Texas Toast in if you're in the mood for french toast hot off the griddle. Just mix it up the night before, cover it and refrigerate, until you need it the next morning. It may need to be thinned out a touch more after a night of chilling. I add a few dribbles of water when I do.
Waffle Mix in a Bag:
2 cups all-purpose flour
5 teaspoons baking powder
4 tablespoons granulated sugar
1 teaspoon salt
2 eggs
1/2 cup vegetable oil
2 cups milk
1 teaspoon vanilla extract
Combine contents of jar with eggs, oil and milk. Pour dry mix into a large bowl. Add eggs, oil and milk. Stir until well combined, but no more than that. Don't over mix.
Allow the bowl of batter to sit in the refrigerator for 5 minutes to thicken up as the baking soda does its thing.
The pancakes can be frozen after frying. Store each separately in plastic wrap and place in a large freezer-safe plastic bag. Reheat in microwave.