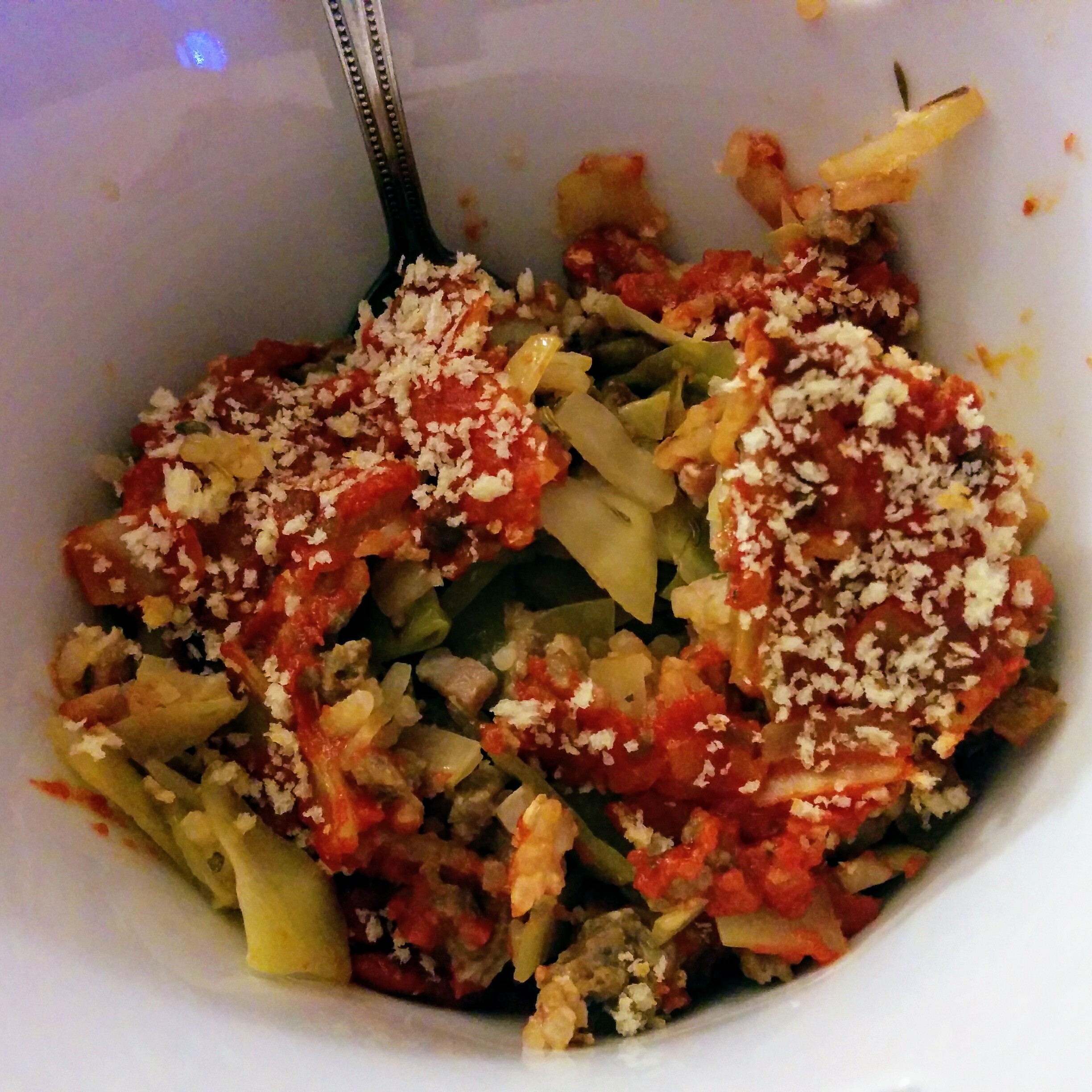 2 tbsp Oil, neutral like veg or sunflower
1 Onion, medium, diced
1 Garlic clove, cut in half or thirds
1 lbs Pork or Beef, ground
Heat oil in a large skillet. Add garlic chunks; cook in oil until they brown, and then discard. This will flavour the oil nicely. Add the onion dice; cook to translucent. Add the grown meat in one large patty over the onions. Brown both sides in tact before using a potato masher to beak the meat into chunks in the pan as it cooks all the way through.
Add S&P to the pan and mix it in well. Once fully cooked, remove ground meat out of the hot pan and onto paper towels to drain.
1 C Jasmine rice
1.5 C Water
1/4 C Chicken Broth powder
1 Egg, room temp
Cook the rice in either a pot on the stove, or in a rice cooker off the stove. When the rice is done cooking, remove it into a large mixing bowl and dump the cooked meat in with it. Add the egg and mix everything together.
1/4 lbs Bacon
In the large skillet, cook the bacon. Rest cooked bacon on paper towels to drain and cool down before finely chopping up. Do not discard the bacon fat in the pan. Add the bacon bits to the meat mixture and stir to combine.
1 Cabbage Head, finely chopped
Bring a large stock pot to rolling boil. Gently ease the cabbage head into that pot. Cook until the leaves are tender. (~ 5-8 minutes) Remove the cabbage head and place it in a deep bowl or a large soup bowl to cool down long enough to pull the leaves off for chopping.
2 C Passata sauce
1 Bay Leaf
2 tea Dry Basil
S&P to taste
1 oz Butter, cut into small cubes for faster melting
In a small sauce pot, heat up the passata sauce with the bay leave fully emerged in it. After five minutes, add the seasonings and continue to bring it to a slow rolling boil. Remove from the heat. Set it aside and add the butter. Let those flavours come  together after a bit of stirring.
Chopped Cabbage
2 tbsp Bacon Fat
Salt, small  pinch to help draw out moisture from the cabbage
2-3 tbsp Herbs de Provence (or Italian seasoning if you have that)
After the leaves are cool enough to handle, chop them into a fine dice. Add it all to the still hot skillet with the bacon fat. Add salt over top and stir. Cook the leaves down a bit longer to make sure all of the cuts have softened to a tender stage. Add the seasoning and continue stirring as it browns a bit.
Add the cooked cabbage to the meat mixture and stir it around to incorporate everything nicely and to cool the cabbage a bit. Taste test to see if the mix is to your liking.
Spray or grease the bottom of a small hotel or roasting pan. Dump the cabbage-meat mixture into it. Spread it out evenly. Top that with all of the passata sauce, smoothing it out all around for full coverage.
Optional: Top casserole with breadcrumbs and a bit of parm if desired.
Bake at 375 for 20 minutes.
Notes: I made this in stages over two days as I had the time and materials. (I originally wanted to make classic cabbage rolls, but this cabbage was too thick to roll even after a lengthy boiling time.) I would not expect anyone to have time to do all of these moving cooking parts for a weeknight dinner unless they have the day off or have all of the materials prepped ahead of time. But I could see this being a nice seasonal Sunday casserole.