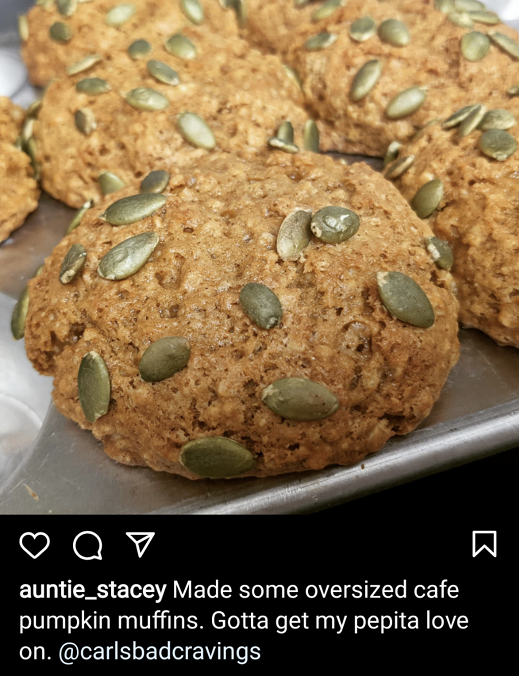 I like making café muffins with big, fat dome tops. The secret to achieve this effect is a 3-prong attack:
1. Overfill the muffin tin wells. Trust me!
2. Resist, at all costs, the urge to drop the muffin pan on the counter to burp the batter because you are conditioned to stop filling 2/3rds of the way up. Trust me!
3. Bake the muffins at 425 degrees for the first 5-8 mins, and them drop the temp to 350 degrees for the next 22-25 mins. Trust me!
Bring them out when the tops are no longer soft and gooey to the touch. Let them cool for at least 30 mins before diving in, lest you burn your mouth off. Ask my husband why I put this disclaimer in. He will tell you allllll about the singed skin in his mouth. 🙂
Easy Café Pumpkin Muffins:
1/2 Bag of Oatmeal Muffin mix (of choice, measuring at least 450 grams)
1 Egg
2 tbsp Veg Oil
1 tbsp Maple Syrup (the good kind, not the table version)
1/3 C each: Water / Pumpkin Puree
1 tea Pumpkin Spices, heaping
Pepita Seeds
Mix the batter until all the ingredients are happy with each other. Using a 4oz disher (cookie or ice cream scoop with trigger), place two portions on top of each other per muffin tin well.
Top each muffin batter with a big pinch of pepita seeds in the middle of each top (fear not, the seeds will spread out as the muffin grows in size to distribute them nicely).
Bake at 425 for the first 8 minutes, and at 350 for the next 20-22 minutes. Yield: 6-7.