I love me a great rice bowl. I also love me a great entre salad. So, I combined the two into a shawarma 'on the rocks' salad. I cut out the pita (or naan if you're used to eating donairs), and I didn't miss it one little bit.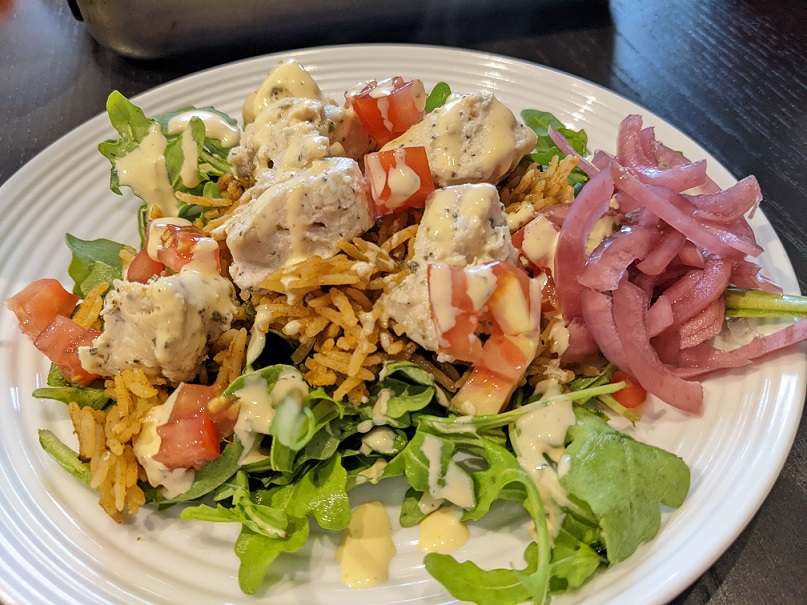 This salad starts on a bed of greens (arugula this time) and it's topped with some spicy rice (optional if you simply use more greens instead), shawarma style chicken, diced tomatoes, pickled red onions, and some spicy cream sauce of choice. (I'm still in love with the sriracha ranch sauce I bought a few weeks ago, so that's what I used. It was quite good and quite filling.
Shawarma Chicken:
1 Chicken Breast (makes enough for two servs)
1 Garlic, minced
1/2 Lime, juice + rind
1/4 Lemon, juice
1 tbsp Yogurt, thick + plain
1 tbsp Oregano, dry
1/2 tea each S & P
Cut up meat into 1″ cubes. Toss them with the dry and wet ingredients in a glass bowl. Mix it up well to fully coat the meat. Throw in the spent lime rind. Cover and chill 30-45 mins.
Discard the lime rind and skewer the meat chunks as the oven or grill heats up. (You will need 4 small skewers, or 3 long ones.) Cook each side 3 mins on the grill, or oven cook for 12 mins, turning once halfway. Cook to the full 165F degrees.