Presenting, my variation on the Foodland Ontario's original cabbage meatball recipe that came out about four years or more ago. It was an instant hit with DH, who isn't into soups or stews in the least. But, something about the ingredients I mixed together and my straining of the broth before serving intrigued him enough to at least try it. And once he did, he declared it "awesome!" (That's high praise indeed from a man whose only rating of meals ranges from, "it's ok," to "it doesn't suck.") As you can tell, I have a harsh food critic at my table every night. Heh.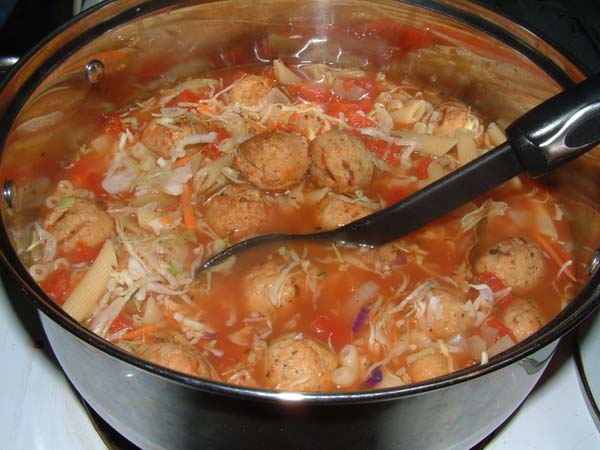 Ingredients:
3 C Broth (of your choice – I use chicken because I use turkey meatballs more often than not)
1 Bay leaf
2 C Onions, sliced
1 C Whole potatoes, undrained (I use a large can of diced tomatoes instead of potatoes – personal pref)
1 Tsp Dried thyme and dried oregano
1 Pinch Sugar
1 Pound meatball of your choosing, frozen or homemade (I have used frozen chicken, turkey and Angus beef)
1/2 C Dry pasta, uncooked (I tend to use penne, macaroni, bowtie, or any other small pasta I have on hand)
6 C Savoy or green cabbage, finey chopped [1 medium head] (I used half a bag of packaged coleslaw mix)
Freshly grated Parmesan cheese
Directions:
1. Boil enough water make your 3 C of broth in a large stock pot. Season to taste with salt and pepper.
2. Toss in the bay leaf and onions and simmer in pot for five to ten minutes.
3. Add the whole can of diced tomatoes to the pot (liquid included), thyme, oregano, sugar and meatballs to the pot. Cook on medium heat for ten minutes, stirring occasionally, till everything starts to blend into each other.
4. Add the dry pasta and a few good handfuls of the packaged bag cabbage mixture to the pot, cover and lower heat to med-low to simmer for final 15 minutes.
5. Serve hot in bowls with some freshly grated Parmesan cheese over top if desired.