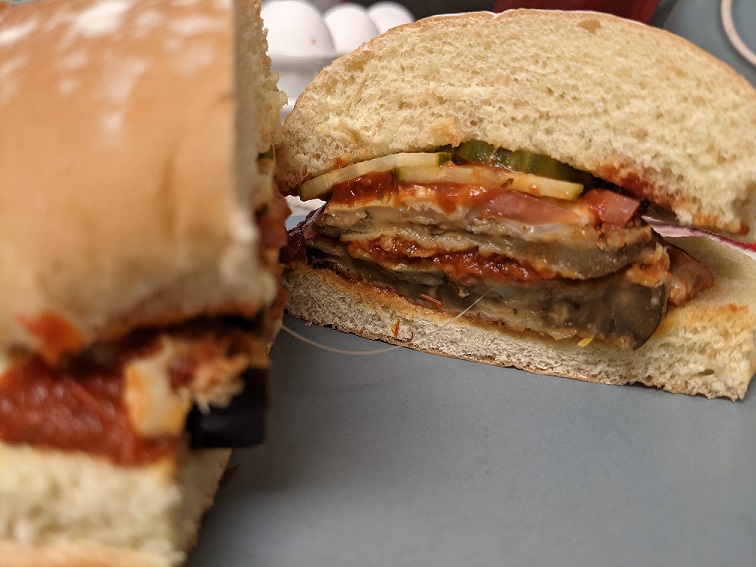 For the coming months when it's too hot to turn on even the broiler for five minutes, I bring you Eggplant Parmesan made on the stovetop.
Yes, I know you don't like eggplant, but perhaps someone else you know does?
The idea is the same as a traditionally made eggplant parm but you forego the lovely browned cheese on each of the crispy breaded eggplant round medallion slices.
It starts out by laying some paper towel on a plate and putting 1/2″ eggplant slices on it. Salt both sides, and prick each medallion. Microwave them for 1 to 1.5 minutes, checking at the 1 minute mark for doneness. Remove any that are foldable; continue microwaving the thicker cuts.
Set up your basic 3 Stage Dredge Station:
1. Flour + S&P in the first bowl
2. Egg whisked up in the second bowl
3. Panko + Italian Seasoning in the third bowl
While your hot pan is heating up some oil, quickly flour, wash, and coat a few slices to drop in the hot pan over the oil. Continue dredging a few more medallions as you check the colour on the first batch. Flip when you hit a nice looking crust. Add a bit more oil around the first few and drop the second batch down to brown.
Remove the done medallions to rest on a wire rack over paper towel until all the slices have been fried. Wipe out the pan's dirty oil, and add a tomato sauce of your choice. Plunk the eggplant medallions into the hot ragu (being careful not the fully submerge both sides). Cut or grate some mozzarella cheese and place some on each eggplant slice.
Place a lid (or a big sheet pan if you don't have a matching lid) over top of the pan to let the cheese melt as everything hits the same temperature.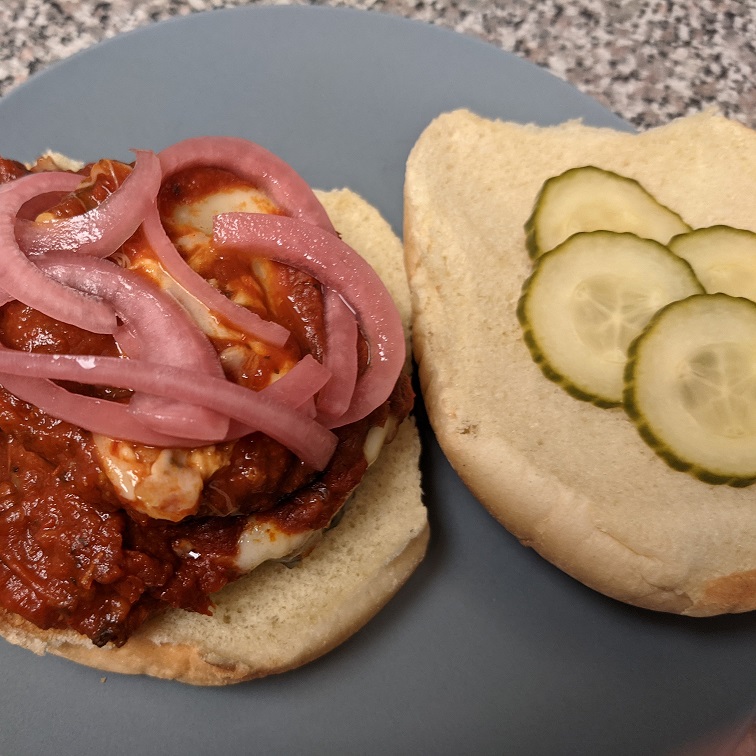 Fish out two slices and place them on lovely fresh bun. Top them with a bit of the ragu, and if you like some lettuce and roasted peppers or pickles (I love the crunch and taste contrast here), and EAT!