This isn't my recipe, it's Arron & Claire's, and it's a keeper. It's quick, it's easy, and it's tasty. In short, this recipe gets the job done on nights where I am craving Butter Chicken and don't have a jar sauce on hand in my pantry. Luckily, I stock all of the ingredients to make it when push comes to shove. 🙂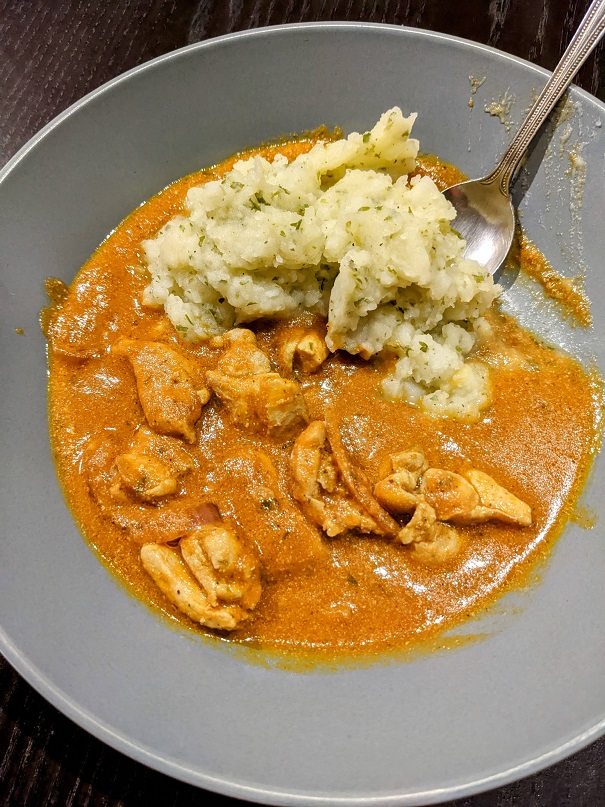 Quick Butter Chicken:
4 Chicken Thighs, bite size cubes
1/3 C Plain Yogurt
1 tbsp Garlic, minced (or 1/2 tea Garlic Powder)
1/2 tbsp: Garam Masala/Cumin/Ground Ginger/Chili Powder
S&P
Oil
1/2 C Yellow Onion, diced
30 g Cashews, rough chopped (opt)
3 C Passata Sauce
5 tbsp Butter
1 tbsp: Ginger, grated/Chili Powder/Cumin/Ground Coriander/Garam Masala
1/2 tea: Sugar (or a pinch of carrot, grated)/Salt
2/3 C Water
1 C Heavy Cream (18 – 35%)
5 tbsp Butter
1/4 tea Chicken Stock Powder
Mix the cut up meat in the yogurt mixture and rest it for 20 mins as you prep everything else. When ready, get your skillet heated up. After 3 mins, add some neutral oil and drop the meat in carefully in small batches. Brown the chicken to take advantage of the maillard reaction. All of that browning = flavour. (The meat will finish cooking as it rests in the hot sauce later.) Rest rest each browned batch in a bowl with paper towels set inside as you work.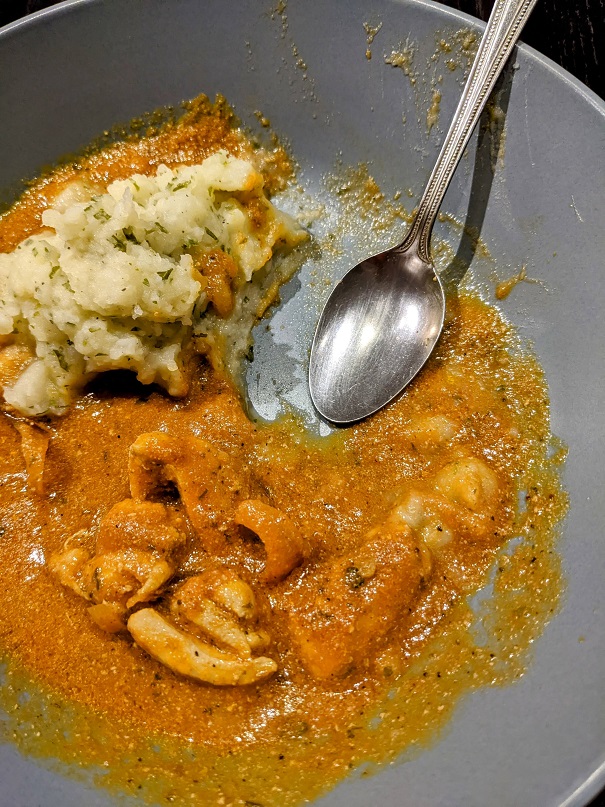 In a bigger skillet, or a big pot, heat up some different oil and dump in the diced onion to soften. Add the cashews. Sautee for a minute before adding the passata sauce. Stew that together for 5 mins before adding the meat in. Stew the sauce another 5-8 mins to cook the meat through.
At the end, add the water, butter, heavy cream and chicken stock. When you've stirred it all together, plate some of the meat in shallow bowls off to one side, top it with a ladle of sauce, and drop the starch of choice (cooked rice, mash potatoes or naan bread chunks) over the sauce. Serve with a dollop of sour cream if desired, topped with some chopped cilantro leaves.