[ Click picture to embiggen ]
Sometimes the best meals are made with leftovers. Especially when it comes to breakfast meals. That's a FACT. Dispute it all you want, but you'll never convince me otherwise. I'm stubborn like that. 😉
Today I went on a bit of a cleaning jag, and before I knew it half of my fridge was cleaned and organized, all the turning bad food stuffs were recycled, and I was cleaning the dirty food containers when my stomach let me know it was time to turn my attention it.
I went back into the fridge because the thought of cereal made me weepy. I wasn't into standard breakfast fare today. I spotted a huge container of jasmine rice and an idea formed. We love jasmine in this house. And since it's a long-ish cook rice, we always make five times more than we need to every time go. We use the leftovers for fried rice typically, but I'm always looking to stretch my repertoire of things I can use this gorgeous, nutty flavoured rice with or in.
Today's breakfast quickly took the form of a fritter. I grabbed an egg, some cornstarch, a nub of red onion that I grated, and mixed those items with some rice I heated up with a few sprinkles of water under plastic wrap for 40 seconds to soften and moisten it. I also threw in some dried parsley for colour and to cut the sting of the onion for good measure, and finished the mixture off with a bit of S&P.
Leftover Rice Fritters:
1 C leftover Rice, of choice (the meat of this fritter)
1 Egg, preferably room temp (for binding)
2 Tbsp Cornstarch (for crispness)
1-2 Tbsp shredded Onion (for sting)
2 Tbsp Parsley, fresh and chopped finely, or half this for dried version (for colour)
S&P, to taste (for seasoning)
Oil (for cooking)
Adobo Mayo Dip:
1 Tbsp Adobo sauce (for heat)
1 C Mayonaise (for creaminess)
1-2 dollops Sour Cream or plain Greek yogurt (for tempering) – optional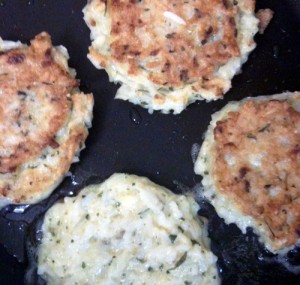 [ Click picture to embiggen ]
I used an ice cream scoop to drop six balls into the hot oil dancing in my frying pan, and slowly pushed the rice mixture down into patties with the back of my wooden spoon. When the first side was crisp and golden brown, I flipped them over to fry the backside. Each side took about 3-5 mins, more or less. I wasn't paying attention since I was cleaning up my mess and making a dip as the fritters did their thing in the pan.
I made a great little kicker mayo dip to go with it that consisted of one tablespoon of adobo sauce and one cup of mayonaise. It wasn't too crazy hot but if you eat enough of it, like I did dipping bite size chunks of the fritters into it, you will find by your third fritter the back of your mouth and top of your throat are starting to feel scorched. If that kind of heat isn't for you, I recommend dropping a dollop or two of either sour cream or plain Greek yogurt in with the mayo to temper the sting.
I love fritters of all kinds. And before today, my favourite was the classic zucchini fritter. I can't get enough of them in the summer. It's amazing how many I have eaten in my lifetime now that I think about it. I'm surprised I never realized I had a wee addiction going on there until today. Ha.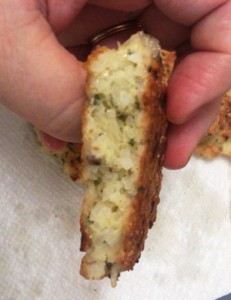 [ Click picture to embiggen ]
This fritter recipe is a keeper. I think I will use this one for fall and winter times, though. The rice is on the heavy side, so I couldn't eat more than three fritters with my cup of coffee and the mayo dip sauce. I got quite full quite fast. Sorta like I do when I eat half a Belgian waffle. I guess I'll have to stick to vegetable fritters for the spring and summer months instead. I'm a bit of a lightweight eater that way. 🙂