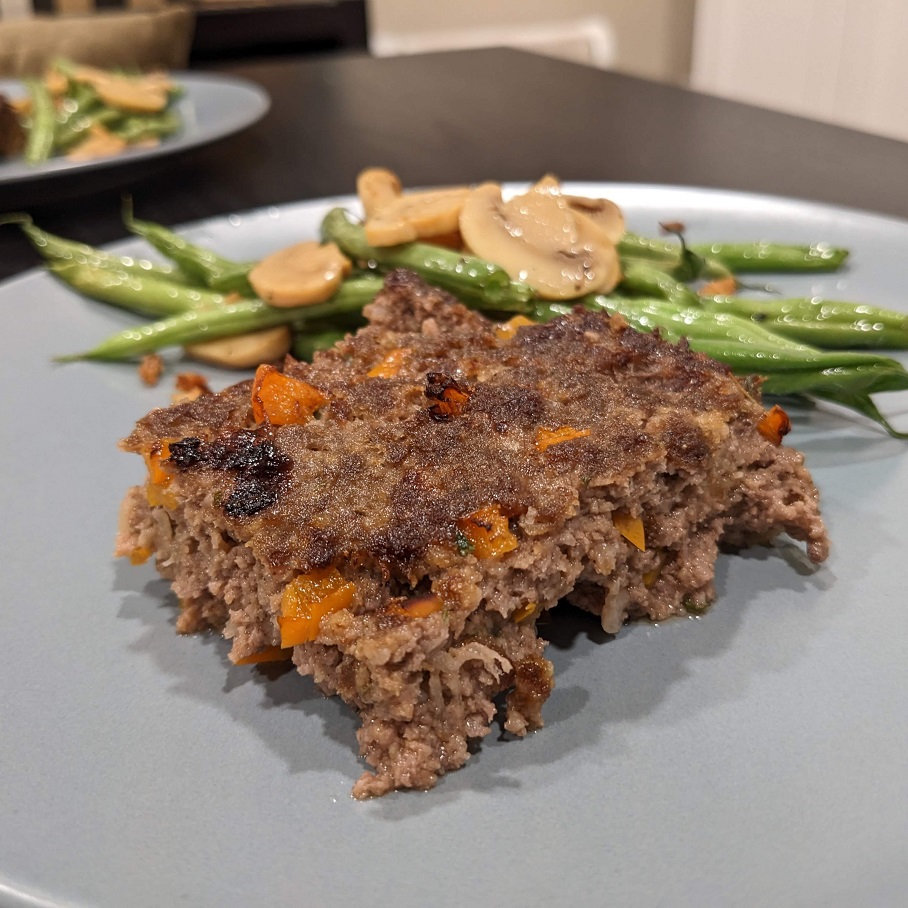 Made a late simple dinner tonight. I cooked a lovely meatloaf in the air fryer. And as that rested, I cooked some green beans with canned mushrooms, and fried onions as the side. I have made many different meatloaves over the years, but this one is up there with my favourite ground turkey meatloaf that I keep craving.
Here's what I put in mine:
Jalapeno Meatloaf:
1+ lbs Ground Beef
1/4 sm Yellow Onion, grated finely
1/4 Bell Pepper, any on hand, fine diced
1/2 med Jalapeno, seeded and fine diced
Cracks of Pepper
Pinch of Salt
3 tbsp Everyday Seasoning Rub
1/2 C Panko
1/2 C Dry Breadcrumbs
Everyday Seasoning Rub:
1 1/2 tbsp: Garlic / Onion Powders
1 tbsp: Salt / Paprika
2 tea: Black Pepper / Mustard Powder
(Despite only needing a bit of the rub mix for the meatloaf, the above will net you enough to fill a small mason jar. You can use it with any kind of food group.)
Mix all of the meatloaf ingredients in a mixing bowl by hand. Place fistfuls of meat into a greased pan, and press the meat into the corners first. Add the rest to the middle and spread it all out evenly across the surface.
Place the pan into the air fryer (or on a sheet tray) to cook at 375*F for about 18-20 mins. Pull the loaf when it temps at 158-160* and let the residual heat finish cook the meat. Let it rest on a cutting board in the pan for about 15 mins as you work on the green beans.
Green Beans:
1 tbsp regular Olive Oil
S&P, to taste
1/2 can Mushrooms (for cooking speed), drained
1+ tbsp Dried Onions
Clean out the mixing bowl with soap, and drip dry it. Run your green beans under cool water to rinse off any dirt. Drain them and dump them in the bowl. Assemble the other ingredients over the beans. Roll everything around nicely. With tongs, move the mixture to the air fryer basket (or dump it onto a sheet tray to cook them in the oven, or in a skillet to pan fry). Cook the beans at the same temp as the meat for about 5+ mins.
They are done when you can hold one bean with the tongs and bend it over in a soft V shape. Plate it all and decide if you want any sauce to top the meat with or not. Enjoy.