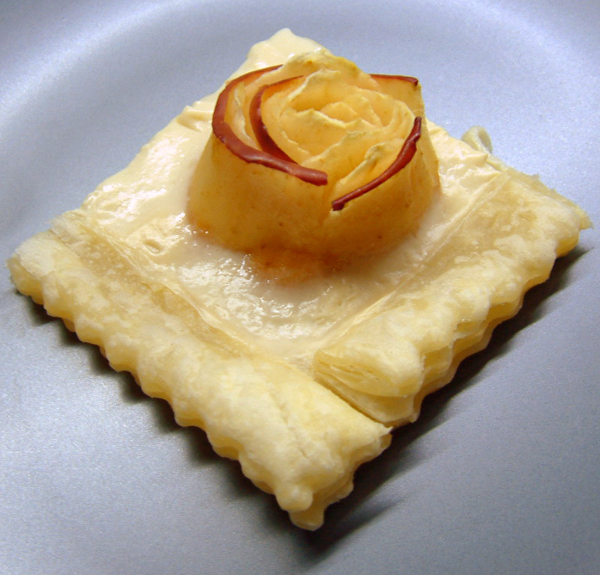 Radmila posted a picture on Facebook of a gorgeous apple tart with the apple peels rolled into roses and embedded in the custard. She expressed concern that it looked a bit dodgy without photos to follow with since the link didn't supply any, so I did a fast and dirty version to show her it's really not.
the version I decided to base my tart on called for making your own shortbread crust and made from scratch custard, but since I was doing this on the fly with limited time and apples, I used a sheet of store bought puff pastry dough, created trough ridges along all the edges and made a boxed white chocolate instant pudding for the filling. I only had two apples in the house, so I made 6 small apple roses for the tart. Again, fast & dirty.
So, in a pictorial for her, here we go:
1. I used my ravioli cutter to make crinkled edging by cutting off a small section all around the dough's perimeter, then placed that same dough over top of the main edge, taking care to match the shape, and cutting off the excess where necessary. This is all extra work that one probably doesn't need to do, but can if they want a nice edge. It only adds a few minutes to the final time, so if you want to, go for it.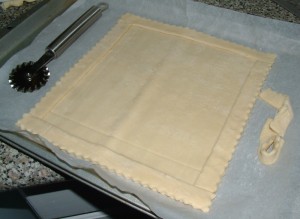 2. I cooked and cooled the instant pudding before spooning some of it into the middle. I didn't use a lot because it filling isn't the main event, the roses are. A little goes a long way. A thin layer is all it takes to make this tart tasty. Don't worry about making a smooth layer with the custard because baking will cause it to smooth out nicely.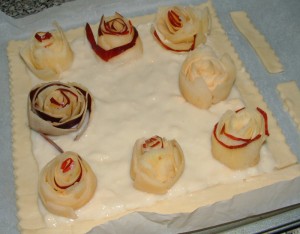 3. I formed the apple roses and let them dry on paper towels before gently placing them into the custard in select places and pushing them into the dough a bit. That seems to help hold the roses pedals in place so they don't unfurl. (Obviously you'll have way more roses to fill up this space than I did, but 6 is enough to give you an idea of how it's done, right?)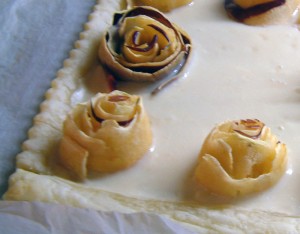 4. I baked this tart at 350 degrees for 15 minutes and let it cool for another 15 minutes to allow the pudding or custard to finish setting. I suppose in the future when I make this again (all from scratch, none of this instant stuff), I will add simple syrup or some thinned out jam to the tops of the roses to give them gloss, and a bit of an egg wash will be applied to the dough for golden colour. I will probably dust the tart with a bit of powdered sugar, too.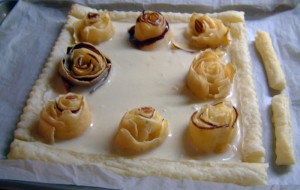 Hope that helps. Let me know if you have any questions in the comments.
Enjoy!