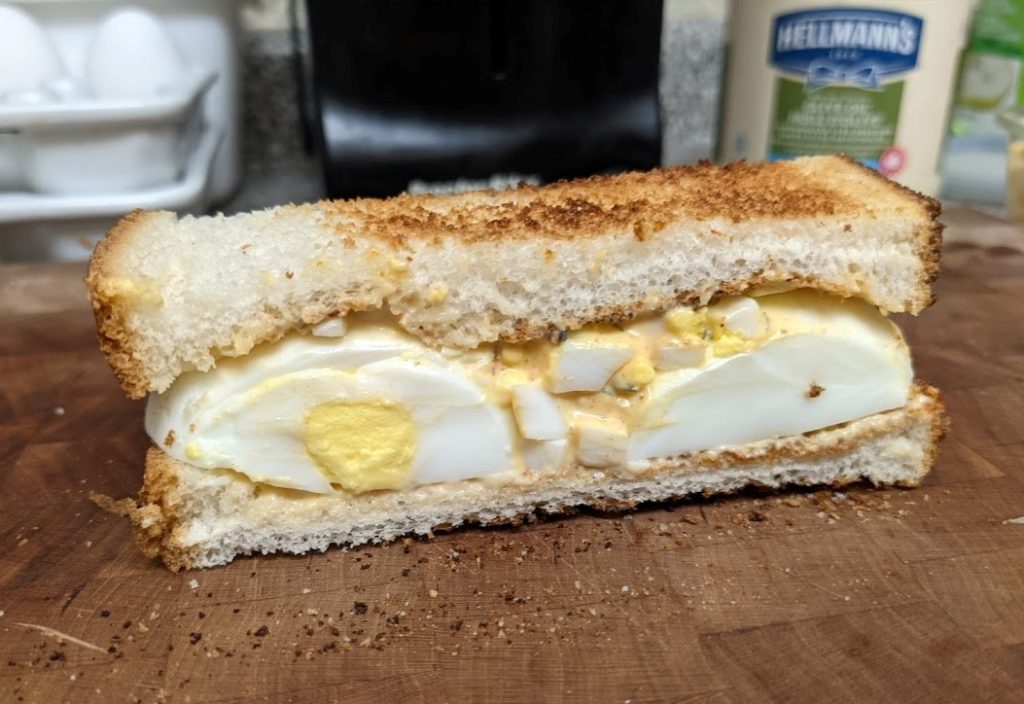 I'm about a year behind LA, and even further behind Japan, but I'm all over this. It's not hard to make. It's boiled eggs in a bit of baking soda (1/2 tea for 6-8 eggs). The first few eggs come out at the 6 min mark (aka jammy egg stage), iced bathed, and then peeled. The rest of the eggs continue to boil another 5 mins (aka hard boiled) before being iced bathed and peeled.
The jammy eggs get cut down the middle whereas the hard boiled eggs get sliced & diced and mixed with a classic deli pasta salad dressing. (I have a recipe for you all.) A bit of sauce (make it up as you go) drizzled over two big slices of thick cut bread that have been toasted on the outside only, and two halves of a jammy egg get laid down before big scoop of the egg salad is dropped and smeared out over top. Close and cut into thirds. Done!
Deli Style Salad Dressing:
1 C Mayo
1 1/2 tbsp White Sugar
1/8 C White Vinegar
2 tbsp Dijon
1-2 tea Salt
1/2 tea Black Pepper
1/6 tea Cayene
1/2 C Green Onions (white & green parts)
1 C Celery Dice
1/2 C Yellow Onion Small, Thin Chops
Typically this is enough for 4 C of cooked elbow macaroni to make pasta salad (adding in any dice peppers you want with some shredded carrot). Chill the dressing at least 2-3 hrs with cling wrap touching the surface so it doesn't dry out before added pasta (or egg dice) with herbs. Toss together and serve cold.