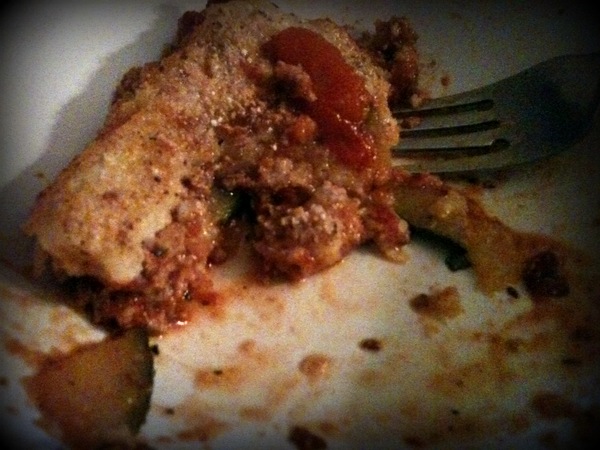 Today it's raining, so today is a great day for us to get real about, of all things, Moussaka.
Moo-saka, as most would say, or Moo-ss-ah-kah, as the Greek people pronounce it, is comfort food at its simplest, finest, and tastiest. This is a casserole dish my husband will unabashedly ask for a third helping of. It is that good. Oh, yes it is.
Traditionally this classic casserole is made with eggplant, but since only one of us likes eggplant, I have taken to making substitutions for him. I love him that much. Oh, yes I do. My version swaps out the eggplant for strips of zucchini and roasted red peppers.
I have been in Greek restaurants in a few parts of Canada that serve this dish with thicker generous layers, and whipped potatoes on top, but I don't feel any of that's right. This is a peasant's dish, therefore it should be kept it as simple and bare bones as possible, and layered with Bechamel sauce up on top just like the Greek peasants did it when it was first invented. This is a great dish for the Spring/Summer time when you don't want to eat a lot but you do want to eat well. This will do the trick. Every time.
Give this one a whirl, and if you are from different regions near Greece, feel free to add something that is familiar to you in place of the eggplant and let me know how that turns out. Here is the basic recipe I use.
Auntie Stacey's Moussaka:
2 Zucchinis – sliced lengthwise 1/4″ thick
Salt – sprinkle over both sides of the zucchini slices, set aside for 10 minutes
Black Pepper – freshly cracked
10 oz Roasted Red Peppers – sop up excess brine with paper towels
1 Tbsp Oil
3 Cloves Garlic – minced (or whole if you only want to flavour the oil)
1/2 Yellow Onion, chopped finely
1/2 Lbs Ground Lamb (or veal, beef, or pork , or a combination of a few)
8 oz Tomato Puree
1/4 C White Wine
1/2 Tea Dry Basil
1 Tea Oregano
Small Bay Leaf
S&P – roughly 1/2 Tea each
2 Tbsp Butter
2 Tbsp Flour
1/2 C Milk
S&P – small pinches
1/4 Tea Nutmeg – grated (optional)
1/4 C Cheese – grated (I used Parmesan)
1/8 C Breadcrumbs
Preheat oven to 500 degrees while heating up a large skillet. When the skillet is hot enough, add 1 Tbsp of oil to warm up. Add the garlic to the pan (I drop the cloves in and heat them up for about a minute or so to flavour the oil, then I discard them), and after a minute I add the chopped onion. Cook the onion until they are translucent and smell fragrant.
Add the meat to the pan and start to break it up into small grinds while tilling it over in the pan for about 5 minutes. Wash and dry the zucchini at this point and start slicing it up lengthwise into one quarter inch pieces. The idea is to have them cover the whole bottom of the baking dish in the assembly stage of this casserole.
When the meat is browned all over, add the tomato puree and white wine. Stir to incorporate it all with the meat before adding the seasonings. Cook another two minutes and remove from the heat, discard the bay leaf, and let it rest while broiling the zucchini slices.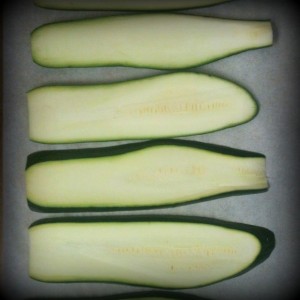 Place the slices on a lined baking sheet and broil each side of the slices about 3-5 minutes. Set them aside once wilted and browned enough to cook a bit while bringing the oven down to 350 degrees.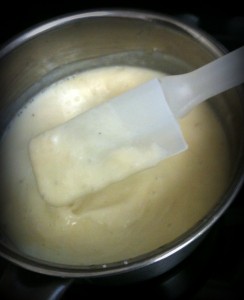 In a small sauce pan, heat up the milk and butter to start the Bechamel sauce. Once the butter is melted completely, add the flour and seasonings and stir constantly until it comes together in a thick white sauce. Remove from the heat immediately at this point to rest a minute or two while assembling the layers casserole like so:
Layer 1: Zucchini slices
Layer 2: Roasted Red peppers
Layer 3: Meat mixture
Layer 4: Bechamel sauce
Layer 5: Breadcrumbs
Layer 6: Parmesan cheese – ground or very fine grate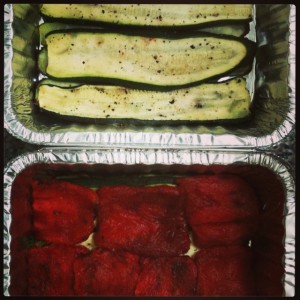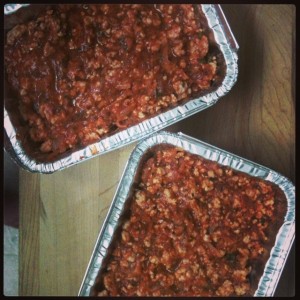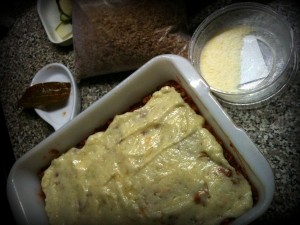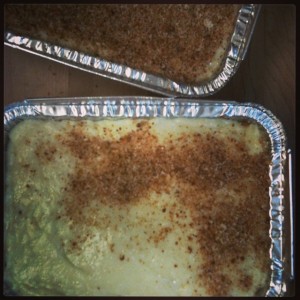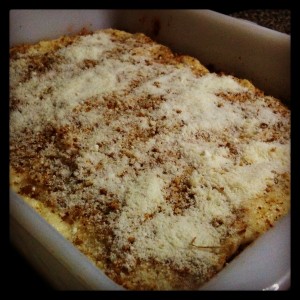 Once assembled, bake for 30 minutes uncovered. Let it rest 5 minutes before serving with a lovely side salad and small hunks of bread with some heated up oil on the side. Or let it cool down as much as it will in a holding time of no more than 30 minutes before storing it the freezer for the future.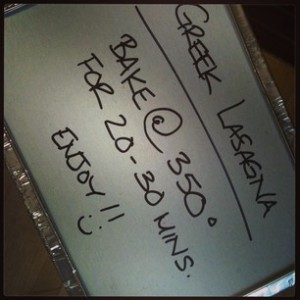 [ This two container batch is for my MIL who is 87, a diabetic, never eaten Greek food in her life, and is suspicious of anything she's never heard of before hence labelling them as Greek lasagnas. It's a close cousin of Italian lasagna, but without the pasta layers. ]
Note: I often grind meat in my food processor or Magic Bullet if I have a great piece of meat already on hand at home to use up, or I cannot find any good already ground meat I'm after at the grocery store. I cut the meat of choice up into 1 inch cubes, and I process them in a few small batches.