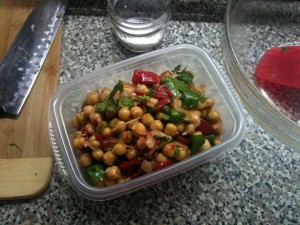 1 1/2 – 2 C Chickpeas, brine drained and rinsed
1 Shallot, halved and thinly chopped
1/8 C Roasted Red Peppers, brine sopped off with paper towels
1/4 C Cilantro, leaves washed and dried
Salt & Black Pepper, freshly cracked
1/8 C Oil
White Vinegar, generous splash
Assembled the ingredients in a medium bowl and lightly toss. Top with the seasonings, and mix well. Store in the fridge for at least an hour so the flavours have time to marry.