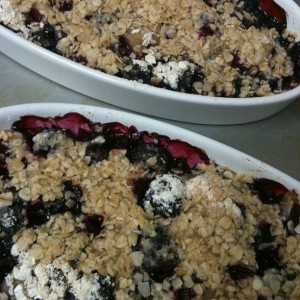 [ Blackberry & Pear Crisp – fresh out of the oven ]
Today a customer gave us our first batch of blackberries off one of the bushes he has in his side yard at home after the husband fixed his computer. (Not as a payment, but as an extra, "Here. This is for you because I remember your wife and you love these from last year when I brought you some at the store," sort of way.) And we did.
He gave us about one and a half cups, and kindly washed them for us, so all I had to do was peel and cut up the lone pear we had in the fridge to add to the berries for this recipe. I love when a great plan comes together on the fly like this.
So, my challenge wasn't what kind of crisp I wanted to make, but rather to scale the one recipe I love the most down to something that will use up everything I have onhand and will also fit nicely into two small baking dishes. I adapted the following to make a 2-person serving. Hope you all like it.
Auntie Stacey's Blackberry & Pear Crisp:
2 C Blackberries + Pears (you can make them even or a bit more of one over the other)
3 Tbsp Brown Sugar
1-2 Tbsp Cornstarch
1/2 C Rolled Oats
1/3 C Flour
3 Tbsp Brown Sugar
1 1/2 – 2 Tbsp Butter (unsalted, cold and cubed)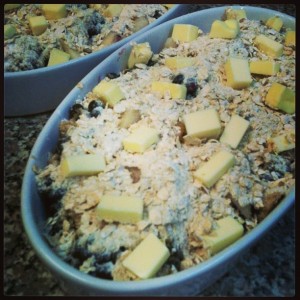 [ Blackberry & Pear Crisp – ready for the oven ]
In a small bowl, mix the sugar and cornstarch; lightly toss with the fruit, or if they berries are too tender, drop the mixture over the fruit as it sits in the baking dishes.
In the bowl again, mix the oats, flour and sugar. Top each baking dish with half of this mixture. Place the small cubes over top of the topping within half an inch of each other.
No need to go overboard or to crowd. If you leftover cubes, chill them for the next crisp you do or use them for your next corn-on-the-cob dinner.
Bake the crisps at 350 for 35 minutes, or until bubbling hot and most of the topping has crisped up.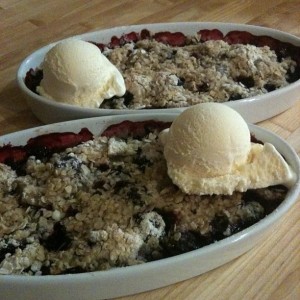 Cool till the fruit can be eaten without scaling the mouth, and serve with French Vanilla ice cream or, if you have it, freshly whipped cream topping.
Yields: 2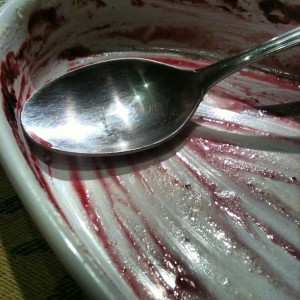 { So good. So, so good. ]