For the last three months, we have been in home reno mode. We were already talking about doing something in some areas of the house (the dining room space, specifically) when we had an issue with the bidet attachment on our upstairs toilet leaking and cracking a few of the floor tiles from the water damage. There is no way of telling how long it was leaking based on the damage we saw after opening up the bulkhead, but we did see it wasn't the first leak that toilet had, and ours was just the latest. The new wood planks in the pictures are replacements for any of the moldy, rotted out old planks that suffered from past toilet leaks.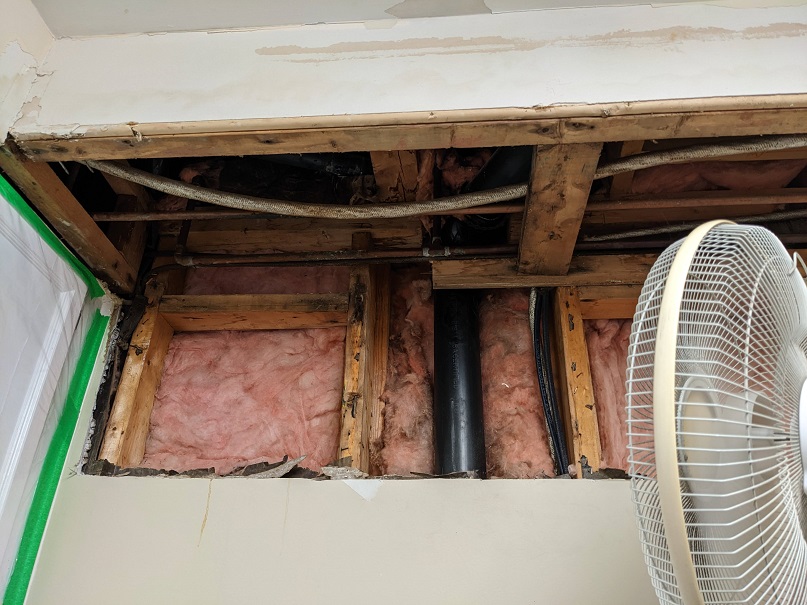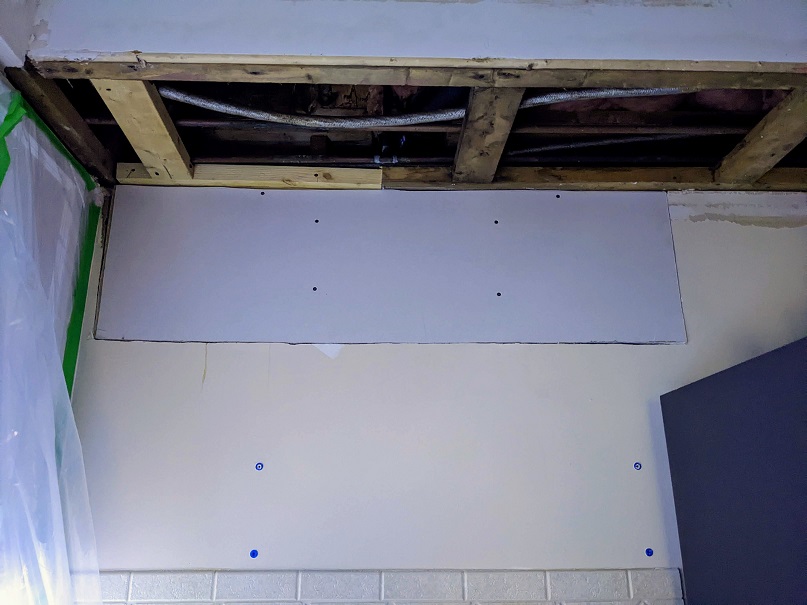 How we discovered this problem was one day there was a gross rust colour water on my kitchen counter that I couldn't trace at counter height after moving all kinds of stuff out of the way, so I started to look around, and then up. EEK.
I turned on all the kitchen lights, and that's when I saw a huge wall bubble of water behind the paint where the ceiling/bulkhead/wall meet. The paint I just put on those walls four months earlier. Ugh. I pointed it out to the husband, and he started poking around. While at work the next day, the husband used his staycation time to literally poke the bubble to empty it. All over my barely covered counter and cooking tools/spice racks. *sigh*
But that's not the only thing he poked open. I came home to this above pic visual. So after a quick text consultation with my contractor brother, we set up a big fan and let it air dry for a few days while we assessed the damages and bought materials to replace and fix up the ceiling, wall, wood, drywall, and paint. Luckily the husband was able to do all of this while I worked that week, so I wasn't in his way and he had loads of time to get it done properly without feeling like he needed to rush this job. That was the last thing I wanted, but at the same time, being without a full functioning kitchen for almost 1.5 weeks was a bit tiresome. I was glad to have my cooking space back, let me tell you.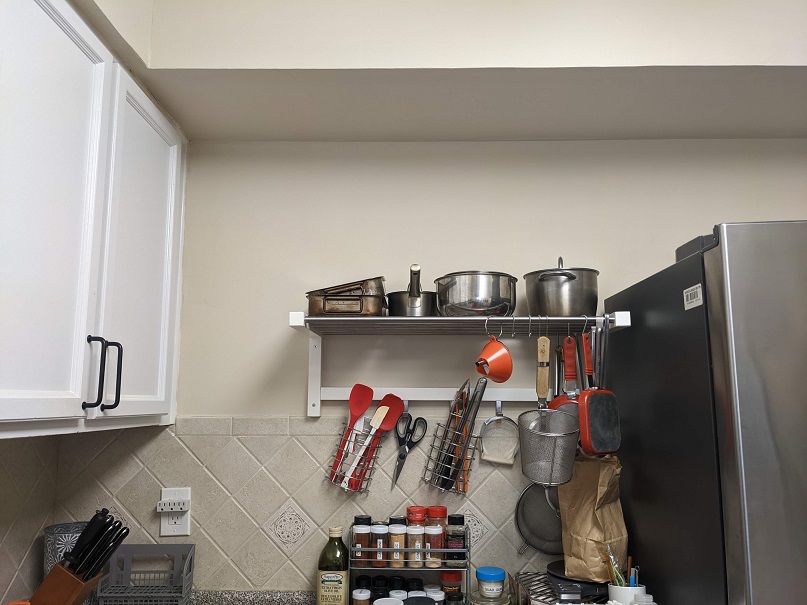 And I couldn't be happier with the work my husband did in there. I honestly have to look hard to see where this all went down on that wall and along the bulkhead. We stopped the leak for now, but eventually we will need to rip up our bathroom tiles. Issue there is those tiles match the ones on the shower walls, so… It will be a job, for sure.
There are touch-ups that need to be done in the kitchen, but now he's eyeballing the light fixture as something he wants to replace with pot lights, and well, that just means more painting in the future, so we'll leave the corners and edges for then.
But in the meantime, I was getting continually frustrated with lack of storage space in my kitchen and dining room to fully store all of my 'kitchen shit.' So, the husband finally cracked and created something for me in the IKEA building planner, and after I signed off on it, he went shopping. That's a post for another day very soon. And I took pix. 🙂
And we did a few other projects that I will post about when I have some time this week.