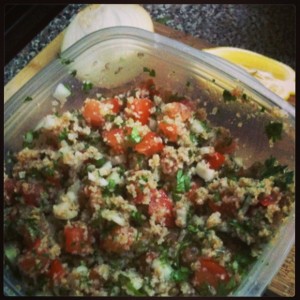 [ Click to embiggen ]
Tabbouleh is a great salad for the summer months when the heat is intense and the stove is ignored in our house. I really love eating it at room temperature, too. I'm weird like that. It makes a wonderful addition to salad bars, so keep this in mind for your next brunch. It'll be a lovely unexpected surprise for your vegetarian guests. We all get stumped when planning meals for those who have specific eating habits, right? It's all ok because tabbouleh is here to save the day, and your dinner parties!
Years ago I worked with a chef named Sami. Sami is from Lebanon. Sami's mother taught him how to cook as a little boy. Many of the recipes she taught him he still uses today at work and at home. He used to make the best tabbouleh I have ever eaten, so one day I begged him to teach me the ways of his magical salad. Surprisingly, he was happy to pass it along to me, imparting some great home cooking philosophy along the way.
Here is a version of his mother's tabbouleh based on my calculations and ingredient choices. He never gave me increments, just suggestions and steps. His feeling is that tabbouleh should be a free flowing salad that has some basics for structure but lots of freedom for using the freshest ingredients you can get your hands on, so feel free to look at this recipe as I do – as a guideline.
Auntie Stacey's Tabbouleh:
1/2 C Bulgur
1 C Water, boiled
1 Tea Salt
1/2 Yellow Onion, medium sized, chopped to small dice
1 C Water, very hot
1 C Water, very cold
2 Tomatoes, medium Hot House (or 1 C chopped Grape Tomatoes)
1/4 C Herb of choice, fresh, washed and chopped up, packed down *
1/2 Tea Pepper, fresh cracked
1-2 Tea Lemon or Lime Juice, freshly squeezed
1/4 C Olive Oil
* Note: I have made this salad over the years using the following herbs: parsley (flat or curly – doesn't much matter except for presentation aesthetics), mint (lovey when in season and the herb Sami liked to add a sprinkling of along with the parsley when it was in season), and cilantro (I love cilantro so I tend to use this a lot). This will be the first year I'm growing sorrel, and with its lemony tinged taste, I will be trying that in this salad as soon as I can, so I'll report back at a later date about how well it worked, or didn't.
Bring the water in a small sauce pot to a simmer and place the bulgur, salt, and any aromatics (bay leaf, star of anise, etc) into the boiling water, Lid the pot and set a timer for 12 minutes to cook. In the meantime, prep all the other ingredients.
In a bowl, place very hot water from the tap over the small diced onion bits and let it sit for 5-10 minutes to take the sting off. Afterward, drain the hot water and cover with very cold tap water. Let it rest the same amount of time before draining and dumping the onion into a large container. Set this aside.
While the onion is bathing in the hot and cold baths, wash and chop up the fresh herb and measure it out to a packed 1/4 cup. Top the onion with it. Cut and seed the tomatoes. Dice them to a small but not too small size. Top the herbs and onions with the diced tomatoes. Crack the pepper over top and pour the juice of half a lemon (about 1-2 teaspoons) and olive oil over that.
When the bulgur is finished cooking, fluff it up and dump it over the other ingredients in the large container. Using a spatula or gloved hands, till all of the ingredients well in the container, until everything is sure to be covered by the citrus juice and cracked pepper. Taste the overall flavour, and adjust the amount of salt and pepper as desired at this point.
Cover and chill this salad for at least 24 hours before serving. It will be hard (I know!), but the ingredients need time to rest and marry with each other. Trust me, the wait will be worth the time and resistance.