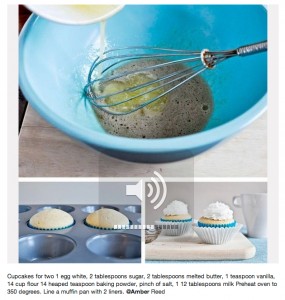 [ Click picture to embiggen. Recipe & picture courtesy @AmberReed. ]
Sometimes I want something baked that's a bit sweeter than a muffin, but I don't want to make a full batch or a big production of it because half the time I want to taste test a new flavour combination I've thought up or found someone talking about online, and it just happens to be one the husband doesn't like or isn't into like Espresso Double Chocolate (for when I'm PMS'ing), so what is a girl supposed to do – park herself in front of a dozen muffins or cupcakes till they're all disappeared from the house?
Uh, not going to happen!
I figure most of you feel the same way I do about not wanting a bunch of baked goods kicking around in the house, seductively calling out your name in the middle of the night from the kitchen all the way to your bedroom, like so:
"Psst! Hey, you! Oh good, you're awake. Can't sleep, eh? Me neither. Remember me? I'm those delicious treats you baked today. Come to the kitchen and visit. C'mon, just a short visit, and then I'll have you back in bed in no time at all. I promise. I know you can hearrrrrrrr meeeeeee…" <– How many times has this happened to us, right?
Well, it doesn't have to happen anymore. That's right, the picture at the top of this post holds the perfect solution to our shared dilema, kids. Give it a go next time you're craving.
(Don't lie. We all crave. I know you're shaking your head right now, but you're also giggling because you know I know I'm busting you!)
Edit: The second set of increments in the picture are all missing their slashes to turn them into fractions. If you don't correct your measurements, you'll have a HUGE mess on your hands. Bake them at 350 degrees for 15-18 mins.