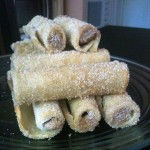 Made the Cinnamon Cream Cheese Rollups (which I have dubbed the "poor girl's cannoli" for some strange reason) today. They were easy to bang out, and pretty straight forward. A great recipe idea when you have kids who want to help bake something in the kitchen. It wasn't until after my fourth "poor girl's cannoli" that I remembered how many calories each one actually contain. Whoops! My bad. No wonder my stomach was so upset with me.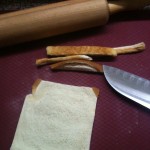 These would be a great little family gathering dessert idea, but I really can't see me putting them out during a brunch with my friends. Although, I could be talked into making a small batch for the kids if someone requested a kid-friendly dessert as part of the buffet. I liked this, and so did the husband. Enough to recommend it to parents.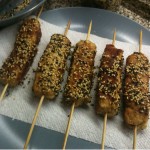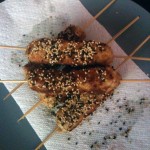 I first made the Sesame Chicken Kebabs using the recipe from this blog, but to be honest, there were way too many onions called for (which I knew going in from experience as a cook, but I remained faithful to the original recipe) and the meat was too wet to stick together let alone cling to the wood skewers (I should have taken pix of the mess in my frying pan when I made that batch. Yuck!), so I remade them using pork, half the onions, used herbs de Province, and added a half a cup of breadcrumbs to soak up a lot of the moisture.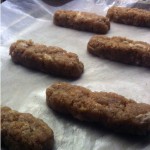 I also formed the meat into thicker logs, froze them, then pan fried them in lots of oil. When they came out of the pan, each was rolled around in the sesame seeds and then had the skewers inserted before plating them. I find ground pork tastes better than ground chicken does overall in this recipe. My husband loved the pork kebabs, just as I did, and he also didn't like the chicken kebabs (too many onions, and the overall taste lingered for hours in our mouths). If you like food on a stick, then this recipe is for you!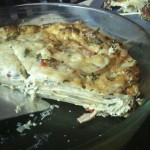 I served my pork kebabs with this tasty potato frittata I whipped up without a recipe (sorry) for lunch today instead over a bed of fragrant Jasmine rice – as I did when I made the ground chicken version. That lunch earned me a fist bump from the husband. Love when that happens. Love!
                ADDENDUM: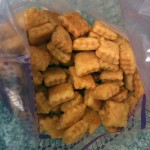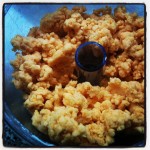 Found some time today to make the Goldfish crackers. I'm not sure why I never made crackers before today, because they're dead easy to make. I was floored at how simple it was the make the dough. The only time consuming part of making these crackers is cutting them out, because they're so small and you then have to prick them with a fork, but I'm totally going to make crackers at home from now on! I will drop the amount of salt the recipe calls for when making them, but definitely these will happen again. And other types of crackers. Hopefully ones with a butter substitute or less butter called for. The crackers were very oily to handle. I didn't like that part. Blech.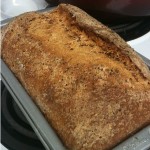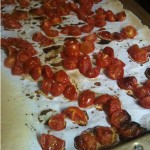 I also baked the Tomato & Herb Bread. I have it resting right now so I won't get a chance to taste it until some point on Monday. Probably with dinner. At the earliest. It looks great, and it baked up nicely. I have high hopes for this one. 🙂