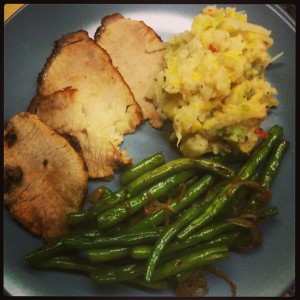 I made us a dinner of typical Irish fare on Sunday. It was the only time we'll have dinner together for at least four nights, so I bumped it up one day. I couldn't get my hands on a brisket or even a basic beef roast (all sold out), so I used a pork roast instead. If I wanted to do it up right, I would have made a bi-fold cut in it so I could stuff and roll it up, but I bought it already trussed. I'm also lazy at times. Hee.
So, from around the plate above in a clockwise direction: pork roast slices that were cut thinly but still held onto a bit of the meat rubbed crust I created, and they're sitting beside heaps of Carrie's mom's fantastic colcannon I made with Nappa cabbage instead of standard green variety. Finally, there is some green beans I boiled then pan fried with shallots, a splash of white vinegar, salt and a few dribbles of hoisen sauce to give it a deep earthy, umami flavour to complete the whole meal.
This meal was amazing. Oh, I almost forgot! I made up the shamrock shake knock-offs to wash it all down with. The boy didn't like it but I thought it was fairly close to what I remember McDonald's version tasting like.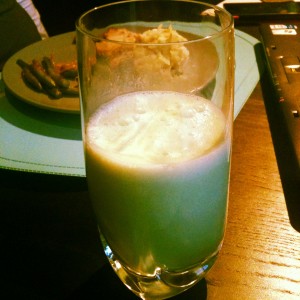 After all of the dishes, I sat down and immediately food coma crashed for a quick 25 minute nap on the couch. Whoops. 🙂
Anyway, here is the recipe for the colcannon. I subbed out the mace for cardamom because I never stock mace. I haven't found a use for it the 45 yrs I have been alive outside of this one recipe, so forget that. My spice stash is already out of control. 😀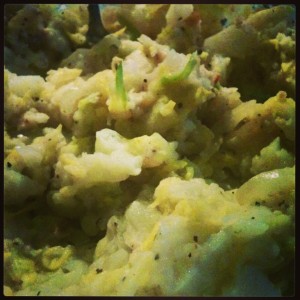 Carrie's Mum's Colcannon:
1 1/4 lbs Russet or Yellow Potatoes, peeled and quartered
1 C Leeks (the whites only) or Yellow Onions, thinly sliced
1 C Whole Milk
1/2 C Butter, unsalted
1/2 Tea Ground Mace (or any other suitable substitute)
1 1/4 lbs Cabbage
1 Tbsp Oil
Sea Salt & Freshly Cracked Pepper
1 Tbsp Fresh Herb (parsley, basil or cilantro – whichever you prefer)
Cook cabbage in water and oil until tender, drain, chop fine, set aside and keep warm.
Cook potatoes until tender, drain and mash by hand.
Simmer the leeks in milk for 10 minutes, keep warm and do not drain.
Add the leeks and milk and the cooked cabbage to the mashed potatoes. Season with mace and salt and pepper to taste and beat by hand until well mixed yet still fluffy.
Plop into a bowl or on a platter, top with butter and parsley and serve immediately.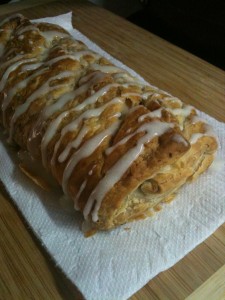 AND! As a bonus, here are two shots of the Apple Strudel I created on Saturday night out of boredom when the husband was busy at work. It's lovely looking, and tasty. The cinnamon flavoured Kahlua really pops in this dish. This is definitely an adults' version you'd serve with strong coffee or a dessert wine.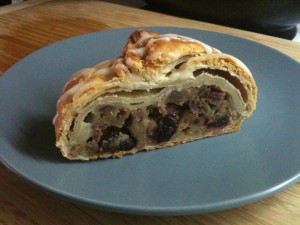 It made a tasty and somewhat unusual breakfast choice for us today, I'll tell you that. But, we both liked it. We even cracked open the French Vanilla ice cream to enjoy it with. What? Like none of you would have done the same thing? Please! Don't lie. 😉